2022 GSPCA National Championships
By Alan Davison
Wednesday, November 16th 2022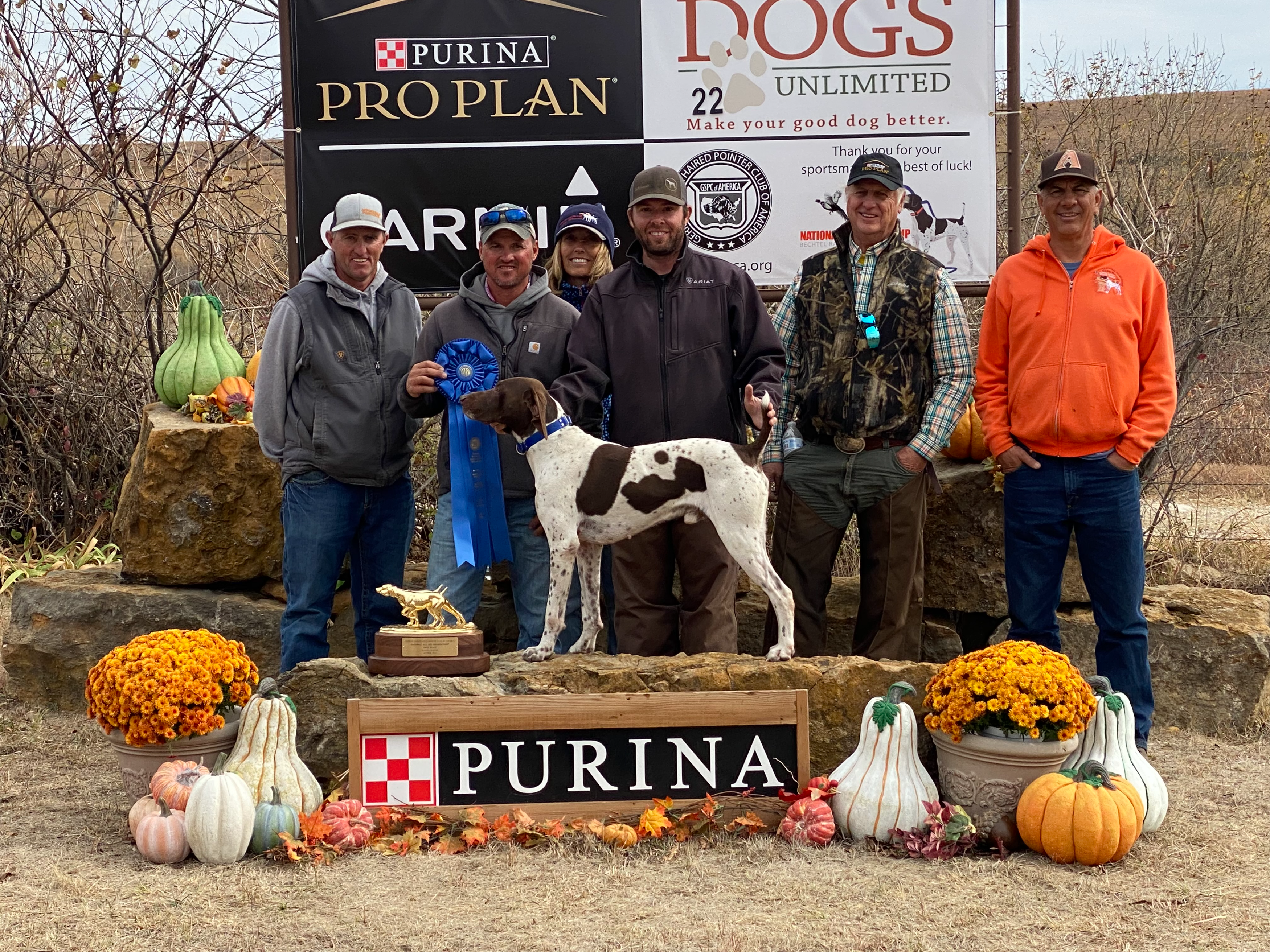 Once again, the GSPCA National Championships were held in Eureka, KS at the Bechtel Ranch. With its rolling hills, open country, and well-placed cover, this is an excellent location to host the National Championships. Roger and Erika Bechtel are excellent hosts and always have everything looking top-notch.
Josh Nieman had an excellent South Dakota summer camp this year, check out the video HERE, and got Tripp in the best shape of his young career; physically and mentally. All the work Josh put into Tripp paid off right away. His first trial of the season was the 2022 Hungarian Partridge Championship held at Keith and Bobbi Richardson's place outside of Cheyenne, WY. Tripp and I we able to secure 1st Place in the Amateur All-Age Championship. The next showing was Runner-Up in the 2022 Rocky Mountain Regional Championship quickly followed up with wins in the 2022 Rocky Mountain Vizsla Club, Open All-Age, and Open Gun Dog stakes. These wins secured his AKC Field Championship! After all of this Tripp was truly set for the National Championships.
A couple of days before leaving for Eureka I got a call from Josh to say that he was headed to the vet because Tripp had injured his left foot during his last training session and needed stitches. After a full examination, Tripp sustained 4 stitches on the top of his left foot and 10 stitches on the left side of his chest, right next to his left leg. Our biggest concern wasn't whether he would run, there was no doubt he would, but if he would rip open the stitches before running or during his brace. We'd just have to wait and see.
I planned to show up a few days before the start of the National All-Age Grand Championship and socialize with the professional dog trainers and the amateurs who had just finished competing in the National Amateur Championship. Getting to watch Tripp run in the All-Age was going to work out perfectly on the calendar. I had to be back in Colorado on Wednesday and Tripp was running in the 10th brace. The All-Age was scheduled to start on Monday and it was expected that 6 braces would be run each day. Good news, Tripp would run 1st brace Tuesday afternoon. We woke up Monday to daring clouds that just promised rain and lots of it. They did not disappoint. The first brace started at 8:00 am promptly but rain began in earnest at about the 40-minute mark and then really let loose. At the end of the brace, the field trial committee decided not to start the second brace until things calmed down. At mid-afternoon, they were able to complete the 2nd and 3rd braces. My plan was now completely off track. It looked like Tripp would most likely run first thing on Wednesday, the day I needed to be home. Bummer.
After a few conversations, there seemed to be a possibility that Tripp may run the last brace on Tuesday if there were any early pickups during the day but there was no guarantee even if there were. Sure enough, the first brace in the morning lasted approximately 30 minutes but I still couldn't be sure if Tripp would run. Even though it was a hard decision I chose to leave for home on Tuesday morning only to find out that he did run the last brace that afternoon. Bummer. Pulling into our driveway Josh called to say that Tripp had done a nice job and he was happy with his overall performance – 3 finds and a true all-age race. He was low-key as usual but there was an excitement in his voice that said more. There were a total of 41 highly accomplished dogs in the stake and we still had 21 more to run. It would be amazing to place in the National Championship and something else to actually win. Tripp and Josh gave the judges something to look at and hopefully would be in the conversation!
After an agonizing 1 ½ day wait I got the word that Tripp had won! WOW! Words really can't describe the feeling. These things don't come around all that often if at all. WOW! My phone blew up, I talked, I was speechless, I wrote, and my phone blew up. WOW! It was spectacular when Tripp and Josh won the National Futurity in 2017 but this was truly on a different level. WOW!
Everyone who enters the National Championship knows their dog has the tools to earn a placement in their event but there are so many variables that have to happen to make it come true. We are fortunate that they aligned for Tripp and Josh.
Many thanks are owed. First and foremost to Josh Nieman for all the hard work and dedication that he has put not only into Tripp but into all the dogs on his string. He is truly dedicated to getting the best out of every dog that he has and I am thankful for that. Brandon Blum for scouting Tripp to his win. Brandon scouts a lot and I'm thankful that he did a masterful job with Tripp. I would especially like to thank the judges, Angela Schillereff, Mark Johnson, and Matt Solt, for their endless time in the saddle, looking at all the dogs intently and seeing the excellence in Tripp. And, of course, thanks to the Field Trial personnel – Kevin Temple, Field Trial Chair, Phil Mathiowetz & Mike Aldrich, Field Trial Co-Chairs, and Cynthia McCracken, Field Trial Secretary. For all of those that I have not named, you are thanked as well for all of the work you tirelessly put into making the GSPCA Nationals the best there is.